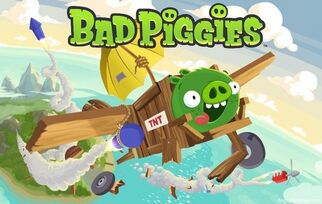 Get ready to see pigs fly!
From the creators of Angry Birds: an all new game from the PIGS' point of view!

Create the ultimate flying/crawling/rolling/spinning/crashing device and pilot the pigs safely to the eggs!

The Bad Piggies are after the eggs again -- but as usual, nothing is going according to plan! Can you create the ultimate flying machine and steer them safely to their destination? Those tricky pigs have a few objects they can use, but they need your help to turn these into the perfect transportation!

With more than 60 levels, and free updates coming up, you have hours and hours of pig-crashing, exploding, and flying fun! Get three stars on every level to unlock 30 more puzzles! HINT: Sometimes you need to play the level several times to achieve all the objectives -- try building a new device or steering in a different way to earn all the stars!
General Info:
Length (in levels): 142
Developer(s): Publisher(s): Chillingo
Released: September 27, 2012
Platforms: iOS | Android | PC | Mac | Windows 8 | Windows Phone
Version(s): 1.0.0
Features:
● 60 levels crammed with flying/driving/crashing fun!
● 30 additional puzzles unlocked by three-starring levels!
● Free updates!
● 4 sandbox levels to stretch your creativity!
● Ultra-special, ultra-secret, ultra-difficult sandbox level to unlock by collecting all the skulls!
● 33 objects to create the ultimate machine: motors, wings, fans, bottle rockets, umbrellas, balloons, and much more!

Mechanic Pig:
● Need help? This little piggy will build it for you!
● Mechanic pig pre-assembles transport for you!
● All you have to do is pilot it!
● Tweak his design to get all three stars!

Video:
Get ready to see pigs fly!
The game, available on iTunes for $0.99 (iPhone version) and $2.99 (iPad version) and free on Google Play, is billed as "an all new game from the pigs' point of view."

The release comes as Rovio battles the perception that the firm is a one-hit wonder, solely reliant on Angry Birds. However, the company's last non-avian title, Amazing Alex has so far failed to wow critics and fans.!!
Download BAD PIGGIES:
Download For Android :
The title, which tasks players with building vehicles to help transport these malevolent swines to safety, is also coming soon to Windows 8 and Windows Phone 8 ..!!
Like SOFTRICKZS on Facebook and stay tune for Next..!!
Thank you.. :)
Enjoy.. :)
◄◄READ MORE►►